I thought I'd share with you some of my favourite eco-friendly products that I use on a regular basis. I have been buying these kinds of products for years now, and through lots of trial and error, have found which ones really do work, and which ones don't (at least for me). So, here are my shining stars in the sustainable living category for your bathroom cabinet! Note: I have not been paid to endorse these products by any means, this is a genuine post in which I just want to share some little gems!)
First off, I have got to mention Balmond's Rosehip Scar Oil. I got this when I was ready to start treating my scar after the hysterectomy last summer. I was advised by the nurse who took out my clips after the surgery to use a specific oil on the scar to treat it, but when I looked up the ingredients it was a petroleum-based product, which is not something I wanted to put on my skin. So, I searched around and found Balmond's scar oil, and wow – did it deliver! This oil contains rosehips, lavender and palmarosa, which gives it a lovely scent. It is all natural, gentle and works not only to treat scars, but as a facial moisturiser, for stretchmarks, uneven skin tone or fragile skin. It is rich in vitamin A, C, E and essential fatty acids. The main oils are grapeseed oil, rosehip oil, sunflower oil, calendula oil, chamomile oil, and lavender and palmarosa oil. Some, but not all of the ingredients, are organic.
I used this oil on my scar (and still do) and it has faded much quicker than if I hadn't treated it. My brother-in-law had abdominal surgery last year as well, and we have compared scars. This oil has really helped in healing the skin, as well as keeping the rest of my tummy lovely and soft. I thought, this works so well on the skin for my belly, let's try using it on my face. I have always avoided oils on my face, because it tends to clog my pores. Not this one. A few drops is enough to do your whole face at night (don't use during the day, as the oils can increase your skin's sensitivity to the sun) and when you wake up in the morning, your skin will look refreshed and lovely (at least, mine did). I can't recommend this oil enough.  I use it on my hands at night as well. It seems expensive, at around £18 a bottle, but the bottle lasts 4 – 6 months, depending on how much skin you want to treat with it. I thought it was extremely good value for money, and I'll continue to use this oil long after my scar has been fully healed. It comes in a glass bottle, with a glass dropper. Sadly the top of the dropper is plastic, but I'm willing to make that concession.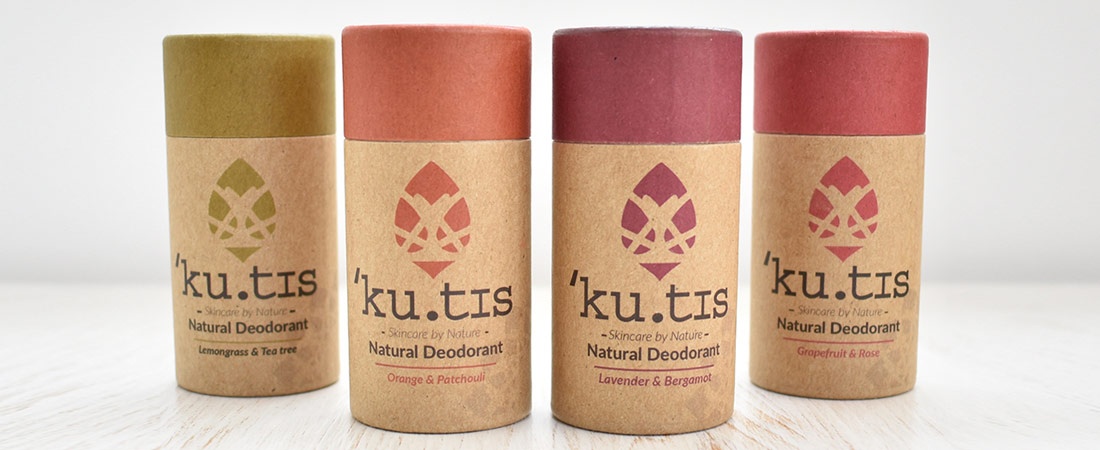 The next stellar product is Kutis natural deodorant. I have spent YEARS searching for a natural deodorant that actually works, and the best that I found for a long time was the solid deodorant from Lush. This still left me a bit swiffy on the hottest summer days, or after a workout, and so I still shopped around. I found Kutis two years ago, and I've never looked back. This deodorant really lasts, through two of the hottest summers I have ever known, through kickboxing workouts and belly dance performances – you name it, this product delivers. It has several lovely scent combinations, and my favourites are the citrus ones and the lavender and geranium. The main ingredient is arrowroot powder, coconut oil and sodium bicarbonate. This product contains lot of ingredients that are organic as well, but not all. It comes in a cardboard tube, which is fully home compostable.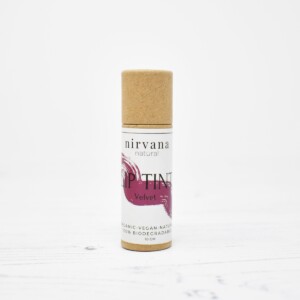 I love my lip balms, especially tinted lip balms. I found Nirvana last year. The lip tint, not the spiritual state. This is an organic, vegan lip tint in a home compostable cardboard tube. I'm not sure about the label being compostable however; I may have to write to them to ask. This lip tint comes in several different colours, but I used the Velvet one all last year. I also used it as a cheek tint too, and it was pretty good, though sometimes it can get a bit oily on very hot days.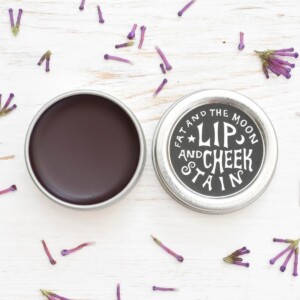 Another lip and cheek tint I found recently is Fat and the Moon. They call their product a lip and cheek stain, but it doesn't stain at all – it is, in fact, a tint. I would have preferred a stain, for its lasting power, but this doesn't have it, sadly. It is, however, a lovely tint, but you will have to keep re-applying it, not only to your lips but I also needed a refresher for the cheeks halfway through the day. It gives a lovely natural colour and contains all organic ingredients, though it is not vegan as its base is beeswax.  I used to use Burt's Bees All Aglow for a lip and cheek tint, but the plastic packaging put me off. As soon as Burt gets their act together on the packaging, I'll be looking into them again.
Finally, let's talk hair. I have spent YEARS looking for a natural, solid shampoo and conditioner that was SLS free. Everything that I tried (apart from Lush) left my hair a sticky awful mess. Lush works, but contains SLS. Then, at the beginning of this year, I found Ethique, who now distribute from the UK (they are an Australian company). I bought their hair sampler package and their facial sampler. Everything in them was lovely, but I highly recommend their St Clements shampoo for oily hair (mine's not that oily, but it gives it a good clean) followed by Wonderbar conditioner (again for oily hair, but it works great on my "normal" hair. The full size bars last a long time, and the conditioner bar is a lot smaller than the shampoo bar. Don't let that fool you. I'm almost finished the shampoo bar, but still have half of the conditioner left! The conditioner works best if you work it through the hair from root to tip, and then brush it all the way through. You also use less conditioner by doing so. The products from Ethique are not cheap – in fact, they're a bit eye-watering in price, but they are the only ones that I have used that actually work, are eco-friendly, compostable packaging and really good quality.
Do you have a favourite beauty/bathroom product? Let us know in the comments, please!